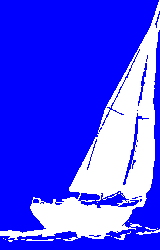 MARINE INSURANCE SERVICES
PO BOX 224, MIDLAND, ONTARIO, L4R 4K8, (705) 526-9541, FAX (705) 526-1294
---
C35 INSURANCE AGAINST CRIME
SUMMARY NOTES
2001
---
STUDY 1 INTRODUCTION TO CRIME INSURANCE

HISTORY AND DEVELOPMENT OF CRIME INSURANCE: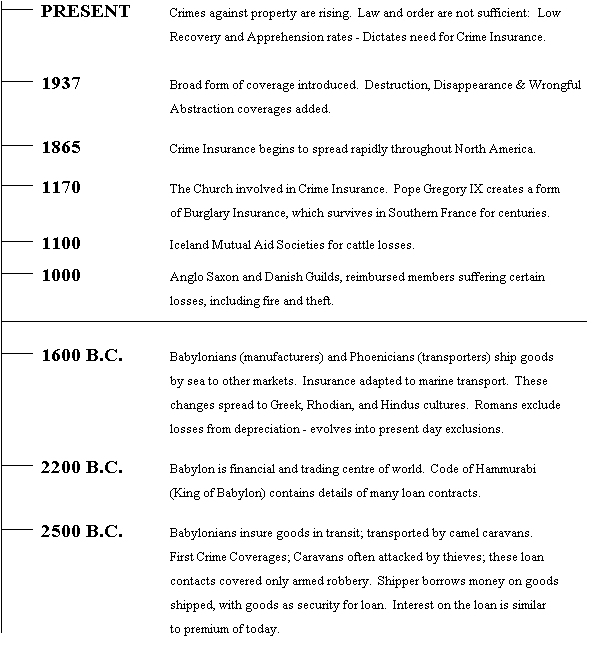 CRIME PERILS
A BUSINESS--THREATS FROM OUTSIDE
| | |
| --- | --- |
| PERILS | PROPERTY |
| Inside Hold-Up | Money, securities, merchandise, equipment, other property |
| Outside Hold-Up | Money, securities, merchandise |
| Safe Burglary | Money, securities, merchandise |
| Mercantile Stock | Money, equipment, furniture, improvements |
| Burglary | Money, equipment, furniture, improvements |
| Damage to Building Caused by Burglary or Holdup | Building |
| Theft | All Property |
| Extortion | All Property |
| Forgery & Counterfeit Paper Currency | Money Orders, Cheques, Paper Currency |
A BUSINESS--THREATS FROM WITHIN
| | |
| --- | --- |
| PERILS | PROPERTY |
| Employee Dishonesty Alone or with Outside Help | All Property |
| Computer Fraud | Money, Securities, Merchandise, Confidential Information |
| Document Forgery | Securities, Cheques |
A PERSON--THREATS FROM OUTSIDE:

| | |
| --- | --- |
| PERILS | PROPERTY |
| Theft | Personal Property, Professional Property & Goods |
| Burglary | Property in Care, Custody, or Rented to Insured |
| Safety Deposit Box Burglary | All Property, including Money |
| Fraud | Credit Cards, Cheques, Counterfeit Money |
---

STUDY 2 TRADITIONAL POLICY FORMS

COMMERCIAL CRIME INSURANCE POLICY (IBC FORM # 6000)
Common to all crime coverages; specific wordings/riders added. 3 Parts:

1) DECLARATIONS: Includes Limit of Insurance (Maximum amount for 1 Occurrence and Maximum amount for each Coverage), Premiums for 9 Coverages added, Endorsements.

2) GENERAL CONDITIONS: Applies to All Coverages.

Canadian Currency Clause: All amounts in Canadian funds.

Cancellation:
Insured at any time by written request, mailed or delivered, premium returned pro rata short rate.
Insurer at any time by written notice, 15 days for nonpayment of premium, otherwise 30 days, from receipt at destination post office, premium returned pro rata.

Change of Interest: Allowed in cases of death, insolvency, bankruptcy, or Insurer's agreement.

Changes: Endorsements are agreements between Insurer and Insured.

Discovery Period for loss: Max. 1 year from end of policy period.

Duties in event of loss: As soon as they have knowledge of loss:
i Notify Insurer
ii Be examined under oath if required
iii Signed Statement
iv Proof of Loss within 120 days, sworn
v Cooperate with Insurer in investigation and settlement
vi Immediately Notify Police
vii Prevent Negotiation, Sale, Conversion of any Securities

Inspection: Insurer can inspect premises at any reasonable time.

Joint Insured: 1st Insured listed presumed to act on behalf of all, fact of hazard known to 1 Insured presumed known by all, employee of 1 Insured presumed to be employee of all Insureds.

Legal Action Against Insurer: Permitted from 90 days after filing proof of loss to 2 years from date of discovery of loss, and only after Insured complies with policy terms.

Loss Sustained Under Prior Insurance: If a claim is denied under a prior policy, and this is replaced immediately with an identical policy, then the claim is construed to have occurred on the 1st day of the new policy.

Other Insurance: This policy is Excess. (Except Quebec, pro rata).

Ownership of Property, Interest Covered: Property owned or in care of Insured covered, restricted to Insured's interest and liability unless other peoples' interest included in Proof of Loss.

Policy Period, Territory: Loss must be within stated period and within Canada/US.

Records: Insured must keep records of all insured property and provide these amounts to the Insurer.

Recoveries: (Do not include amounts from insurance, suretyship, reinsurance, security, indemnity for Insurer's benefit, or of original securities after duplicates issued). Immediate notice of Recoveries is required. Any Recoveries less the cost of obtaining them go to:
1. Insured, up to amount in excess of limit of insurance or deductible.
2. Insurer, until reimbursed for settlement.
3. Insured, until reimbursed for deductible.

Representations: Basis of Policy, if Insured misrepresents, then policy is null/void.

Transfer of Insured's Rights of Recovery Against Others to Insurer: Basic Subrogation provisions exist.

Valuation: Insurer can elect to pay, repair, or rebuild lost or damaged property. Valuation as follows:

Securities: ACV at close of business on last business day before discovery of loss, Cash Settlement or Lost Securities Bond.

Other Property: ACV at time of loss, or amount stated for advance or loan (collateral) plus interest, whichever is less.

Salvage to the Insurer.

Damage to Premises: Max. ACV of repairing premises or replacing with like kind & quality.

3) GENERAL DEFINITIONS:

Banking Premises: Interior of portion of building occupied by banking institution or similar safe depository.

Burglary: Unlawful taking of insured property from within Premises by person unlawfully entering or leaving premises as evidenced by marks of forcible entry or exit.

Stock Burglary Rider: Burglary as above, but includes showcases or show windows.

Custodian: The Insured, his partner, or employee authorized to have care & custody of insured property, excluding Guard, Janitor, Porter, Watchman.

Equipment: All contents usual to the Insured's business, including furniture, machinery, etc., and similar property of others for which Insured is liable. Not including Stock, Building.

Guard: Able-bodied person who accompanies Custodian at Insured's direction, not the driver of a public conveyance.

Jewellery: Includes jewellery, watches, gems, stones, pearls, etc.

Kidnapping: Compelling of a Custodian outside premises by violence or threat of violence to admit a person entry into closed Premises, resulting in an insured loss.

Money: Includes currency & coins in current use and with face value.

Occurrence: Act or series of related acts, involving 1 or more persons, resulting in an insured loss.

Premises: Interior of portion of building occupied by business of Insured at address in Declarations, not including showcases or show windows that do not open into interior, public entrances, halls and stairways.

Property: Property of intrinsic value, not including valuables, Money or Securities.

Robbery: Taking insured property from Custodian by persons who have caused or threatened custodian bodily harm or committed unlawful act witnessed by Custodian, or killed/rendered unconscious the Custodian.

Robbery of a Watchman: Unlawful taking insured property by violence or threat to Watchman on duty in Premises.

Safe Burglary: Unlawful taking insured property from vault or safe (Combo. Lock) on Premises, provided it was locked and entry forcible, or taking whole safe from Premises.

Securities: All negotiable or non-negotiable instruments or contracts representing money or other property, including revenue, stamps in current use, tokens, tickets; not including Money.

Stock: Merchandise usual to Insured's business, including packing, and wrapping, ad materials, and similar property of others for which Insured liable. Not including Securities, vehicles, trailers.

Watchman: Person employed by Insured to have care and custody of insured property inside Premises while closed (exclusively, no other duties).

Theft: Felonious taking of insured property with or without force or violence while Premises open or closed (not misplacing items). Includes Burglary and Robbery.

COMMON EXCLUSIONS:
1 Loss/Damage by Fire
2 Damage to glass/lettering/ornamentation
3 Common War Perils
4 Nuclear Incidents
5 Damage to manuscripts/records/accounts
6 Loss due to fraudulent, dishonest, criminal act of Insured, Partner, Officer, Employee
7 Loss where records do not allow an accurate amount to be determined
8 Mail/parcels

CHURCH THEFT (IBC FORM # 6001)
Insuring Agreement: Covers religious, educational, social organization under Insured's direction for:
Loss of money, securities, or property by theft from:
Premises
Night depository on premises
Care/custody of authorized person
Damage to premises or property from actual or attempted theft.
Limit of Insurance: If money lost before Insured counted it, Insurer pays amount verified by reasonable estimates; churches not required to keep accurate records of finances.
Additional Exclusion: Minor losses from Loss/Damage to contents of alms box, poor box, similar receptacle (petty thieves).

DAMAGE TO BUILDING BY BURGLARY OR ROBBERY (IBC FORM # 6002)
Insuring Agreement: Extends coverage to premises damage by actual or attempted burglary, robbery, vandalism or malicious mischief where Insured is owner of premises or liable for damages.
Additional Exclusions: Loss or Damage by fire, or during a fire.

INSIDE/OUTSIDE ROBBERY (IBC FORM # 6003)
Insuring Agreements:
Inside Robbery: Actual or attempted robbery of custodian on premises including damage to premises, kidnapping, theft from display window in premises while open.
Outside Robbery: Actual or attempted robbery of a custodian away from premises while engaged in duties connected with property in Canada or US, theft from home of custodian up to limit of insurance or $500, whichever is less, and theft from night depository of bank or trust co.
Additional Exclusions: Loss or Damage if Custodian or Guard criminally implicated as principal or accessory.

LESSEES SAFE DEPOSIT BOX BURGLARY & ROBBERY (IBC FORM # 6004)
Insuring Agreement: Loss or Damage to insured property in leased deposit boxes in vault in banking premises, from actual or attempted burglary, vandalism, malicious mischief, actual or attempted robbery from within.
Also Includes: Loss by fire.

MONEY AND SECURITIES (IBC FORM # 6005)
Insuring Agreements:
Inside Loss: Loss of money or securities by actual destruction, disappearance, unlawful removal within premises or bank, actual or attempted safe burglary or robbery.
Outside Loss: Loss of money or securities by actual destruction, disappearance, unlawful removal outside premises while conveyed by custodian or armoured vehicle or in custodian's home; actual or attempted robbery while conveyed.
Also Includes: Loss by fire.
Additional Exclusions:
i Loss due to surrendering money or securities in exchange or purchase or due to accounting errors
ii Loss of money in coin operated machines unless amount is constantly measured
iii Loss from funds electronically transferred to person outside premises
iv Loss while in custody of armoured vehicle company, unless amount in excess of contract
v Loss from surrender away from premises as a result of threat to person or property
vi Costs of defence of legal proceeding against Insured
vii Potential Income
viii Damages the Insured is legally liable for, except direct compensation
ix Costs of establishing amount of loss

OFFICE/STORE BURGLARY AND ROBBERY (IBC FORM # 6006)
Insuring Agreements: 8 Coverages in 3 Packages:
4 Point Office Burglary & Robbery: Inside Robbery, Outside Robbery, Safe Burglary/Burglary of Money & Securities, Damage to Property & Premises.
7 Point Office Burglary & Robbery: Add Kidnapping, Theft Money & Securities in Night Depository and Custodian's Home, Theft from Office Premises.
7 Point Store Burglary & Robbery: Add Kidnapping, Theft Money & Securities from Night Depository and Custodian's Home, Burglary of Stock in Store.

SAFE BURGLARY (IBC FORM # 6007)
Insuring Agreement: Safe Burglary, damage to premises, and damage to property inside premises. Type of safe defined. Type of property safe will hold is stated: Money/Securities/Other Property, Securities only, Stock only, Other Property.

SECURITIES INSURANCE (LESSEES OF SAFE DEPOSIT BOXES) (IBC FORM # 6008)
Insuring Agreement: Loss or Damage to Securities in safe deposit box or temporarily removed in banking premises from actual/attempted burglary, vandalism, malicious mischief, actual/attempted robbery from within.
Also Includes: Loss by Fire.

STOCK BURGLARY (IBC FORM # 6009)
Insuring Agreement: Loss or Damage to Stock or Equipment from Burglary or Robbery of a Watchman or vandalism or malicious mischief and damage to premises, while premises closed or from showcases or show windows not opening into interior.
Limit of Insurance: Aggregate Limit + $100/Item Jewellery and $200 Property in showcases/show windows.
Additional Exclusions:
1 Loss or Damage to furs and leathers if window broken outside premises
2 Loss or Damage to Securities
3 Loss or Damage contributed to by change in condition of risk

ENDORSEMENTS: Available for additional Premium: IBC FORMS:
POLICY # ENDORSEMENT
6100 Burglar Alarm System Endorsement: Details of Insured's alarm; if alarm not kept in working order or will be disregarded and Insured does not notify Insurer, then coverage reduced (as if alarm system doesn't exist).
6101 Endorsement to Increase Limit of Insurance in Home of Custodian.
6102 Alteration of Limitation of Specified Items: For items more susceptible to theft.
6103 Alteration of Limitation Applicable to Showcases/Show Windows.
6104 Endorsement to Increase Insurance for Designated Period: Increases limit for peak periods (seasonal).
6105 Endorsement to Include Fenced or Walled Premises: Expands premises definition.
6106 Endorsement for Newly Acquired Locations: Automatic insurance if notice within 30 days, to lowest limit of insurance at other location.
6107 Endorsement to Extend Insurance to Include Theft: No forcible entry/exit required. Covered if premises left unlocked and Theft occurs. Physical inventory of stock for prior 12 months required. Disappearance/Shortage not covered.
6108 Endorsement to Extend Insurance to Precious Metals used by Dentists.
6109 Endorsement to Delete Insured Property.
6110 Burglar Alarm System Warranty Endorsement: No cover if alarm system not properly maintained; insurance will cease altogether.

CRIME COVERAGES OF THE COMMERCIAL BUILDING, EQUIPMENT & STOCK BROAD FORM (4037)
Insuring Agreement: All Risks of Direct Physical Loss or Damage to insured property.
Exclusions:
1 Common Exclusions
2 Money or Securities
3 Furs, Jewellery, etc. except first $1000 and losses from fire, lightning, or explosion
4 Property in custody of sales rep. outside premises
5 Dishonest or Criminal act of Insured or his representatives (employees)
6 Disappearance or Shortage

RESIDENTIAL INSURANCE CRIME COVERAGES (1007, 1005)
Homeowners & Tenants Policies: Crime perils including theft without break-in.
Extensions:
Property temporarily removed, 10% or $1,500 whichever greater, worldwide.
Property stored in warehouse, Theft only.
Limits of Insurance:
i Books/Tools/Instruments of Business on premises $1000
ii Securities $1000
iii Money $200
iv Tractors $5000
v Watercraft $1000
vi Computer Software $500 (Computer covered as furniture)
vii Jewellery Theft $2000
viii Coins Theft $100
ix Manuscripts/Stamps Theft $500
x Silverware Theft $5000
---

STUDY 3 3-D POLICY

COMPREHENSIVE DISHONESTY, DISAPPEARANCE AND DESTRUCTION POLICY ("3-D" POLICY) IBC FORM # 5000

Employee dishonesty insurance and other coverages (Employee theft covered here, excluded in most other crime policies).

Insuring Agreement, Parts:
1. Employee Dishonesty, Form A (aggregate amount, all employees, per occurrence). Discovery Period 1 year.
2. Employee Dishonesty, Form B (aggregate amount, per employee). Discovery Period 2 years, Maximum $100,000.
3. Loss Inside Premises.
4. Loss Outside Premises.
5. Money Orders & Counterfeit Paper Currency.
6. Depositors Forgery.

Employee Dishonesty Coverage: Loss of money, securities or other property from employee, alone or with help from others. Certain employees handle large sums and are heavy risks. At first, guarantees from employees used (warranties like guarantee bonds). Then specialized bonding companies provided Sureties. Now Employee Dishonesty Insurance is a 2 party contract (employee & employer). At first, only key employees were named and covered; endorsements were used when person replaced. Now Blanket Coverage policies for all employees used. Fidelity losses can jeopardize a company and it is difficult for a company to recoup its losses. Insurance companies can deter losses as they are better able to recoup losses from wrongdoer. Loss must be fraudulent or dishonest, not error or neglect, must be intent. Must be loss to Insured and benefit to wrongdoer, i.e., vandalism is not covered. Sometimes loss from unidentified employee is covered.

Conditions/Limitations:
Territory: Canada or US and employees temporarily elsewhere.
No coverage for acts of the Insured.
Discovery Basis: Coverage if loss discovered during policy period or during discovery period (1-2 years after term) or loss under prior bond or policy.
Loss Inside Premises: Loss of Money or Securities by actual destruction, disappearance, unlawful removal within premises or bank; actual or attempted safe burglary or robbery.
Loss Outside Premises: Loss of Money or Securities by actual destruction, disappearance, unlawful removal outside premises while conveyed by custodian or armoured vehicle or in Custodians home, actual or attempted robbery as conveyed.
Money Orders & Counterfeit Paper Currency: Covers Canadian or US counterfeit funds and false post office or express company money orders; rare losses.
Depositors Forgery: Covers cheques issued by Insured (not received or cashed by Insured), for forgery to signature or amount or recipient (by 3rd Party).
---

STUDY 4 3-D POLICY CONTINUED

ADDITIONAL COVERAGES (3-D POLICY), ENDORSEMENTS, IBC FORMS

Burglary & Theft Coverage on Merchandise (5027): Adds burglary & theft coverage to stock; for burglary coverage there must be unlawful abstraction of property with visible marks entry or exit.

Credit Cards (5030): Rare coverage since credit card companies limit loss to $50 if card lost, though only if loss reported promptly.

Forgery of Cheques Cashed by Insured: Very high risk coverage, requires 25% participation by Insured so still cautious of incoming cheques.

Extortion: Reinserts extortion exclusion of 3-D policy. Requires Insured's participation of 20%. Choice of coverage: 2 Parts:
1. Threat of safety to persons.
2. Threat of safety to property.

Computer Fraud: Not desirable coverage since property lost through computer fraud without proof of employee involvement, difficult to trace, high loss potential.
---

STUDY 5 FINANCIAL INSTITUTIONS COVERAGES (MONEY & SECURITIES)

Institutions are complex operations, most vulnerable to Fraud; different from industrial or mercantile risks, dictates need for special set of policies.

Financial Institutional Policies, 5 Types:
Financial Institution Bond--Standard Form # 14: For Investment Brokers, Investment Dealers Association (IDA) members, Mutual Funds Dealers, Real Estate Capital Investment Dealers. Amount of Insurance is set by government from $50,000 to $100,000,000 depending on size of broker.
Financial Institution Bond--Standard Form # 15: For US Finance Companies.
Financial Institution Bond - Standard Form # 23: For Credit Unions & Caisses Populaires.
Financial Institution Bond--Standard Form # 24: For Canadian Finance Companies, Banks, Trust Companies, Lending Institutions, Credit Unions, Caisse Populaires.
Financial Institution Bond--Standard Form # 25: Insurance Companies (Life or General), endorsement will cover agents.

Coverage: Similar to 3-D Policy, with few differences:
1 Covers Canada & US
2 Edited and modified by Surety Association of America (SAA)
3 Policy wordings are government approved
4 Maximum limit of insurance paid for total losses during policy term
5 No automatic reinstatement without extra premium
6 No discovery period after expiry
7 Claims-made basis
8 Employees include attorneys, guest students, data processors

Insuring Agreements:
A Fidelity. Like 3-D, Section 1.
B Loss of Property/Contents. Like 3-D, Section 2.
C Loss of Property in Transit. Like 3-D, Section 3.
D Forgery of Cheques, Negotiable Instruments, Letters of Credit.
E Forgery of Securities.
F Counterfeit Money.
---

STUDY 6 UNDERWRITING CRIME COVERAGES

High expense factor; low loss ratio needed, or no profit.

Moral Hazard: Dishonesty, negligence, carelessness; usually uninsurable; not easy to spot prior to claim; need person with good reputation and stable finances.
Physical Hazard: Type of property, physical elements.

Residence Theft Coverages: Usually Personal Lines Package or Floater. Moral hazard more important (false or exaggerated claims, leaving valuables unprotected, etc.). Physical hazard: Greater in secluded areas, high risk areas of cities, famous persons. Inspections are rare.

Safe Burglary: Characteristics of safe should be determined (thickness of steel of body or door, use of proper combination lock); light safes can be removed easily, especially if they're on wheels. Premiums higher if substantial amounts stored in safe. If risk is too great, then more than 1 Insurer may be needed (Subscription Policy). Additional protection may be necessary to accept the risk (better safe, etc.)

Mercantile Stock Burglary: Moral hazard not very important as force/violence is required, it is rare that Insureds arrange a burglary. Physical Hazard: thorough inspection required (check books and records, types of protection).

Robbery (Hold-Up) Coverages: Greater risk of robbery if large amounts of cash kept on premises, and premiums increase. To reduce premiums, use night depository, alarms, guards to transport money.

Money & Securities Coverages: Like Robbery above; Excludes employee dishonesty (bonds needed).

Safe Deposit Box Coverages: No Inspections; but Safe Deposit Box Company charges lessee premium as per manual from Insurer. Insurer can inspect lessor's property & vault for lessor's policy.

Fidelity Bonds: Determine how business conducted (is business sound?). Investigate some key employees, applications, employers statement, salaries (should be sufficient to support normal life).

Forgery Insurance: Check applicant's good reputation, controls on cheque issuing & acceptance.

Combined Coverage Policies: No Inspection; for small amounts.

3-D Policy: Combo. of Fidelity, Broad Form Money & Securities, Forgery; rate as per individual forms above; choose risks favourable for all lines.

Financial Institution Bonds: Reputation, Character, and Financial Standing, loss experience, protection, type of securities, honesty of employees--all are checked.

ICPB Loss Information Index: Used by Underwriters to improve loss ratios; Information regarding hazards of certain risks, loss frequencies.
---

STUDY 7 PROTECTION OF PREMISES--BUILDING CONSTRUCTION

90% of burglaries occur by entering from rear door or window and building is inadequately protected (door open, poor lock). 1st Line of Defense is good physical protection (substantial walls, doors, floors, roofs, properly protected openings) - deters amateur burglars. Usually the weaker spots of entry are doors or windows. For Target Stock ($, furs, etc.) entry often through roof or walls, need alarms.

Construction Types: In descending order of resistance to attack:

Roof:
Reinforced concrete 6" +
Timber 4-5" tongue/groove, laminated
Class I or II metal deck
Wood Joist 1-2" planking
Light wood planking/plywood

Walls:
Reinforced Concrete 6" +
Solid Clay Brick 8" +
Concrete Block 10" +
Corrugated sheet metal on wood/metal frame, nuts inside
Frame construction, plastic/hardboard, plywood, etc.

Ceilings:
Need strong masonry walls to roof. AC ducts need to be 'tapped' for burglar alarm. Suspended ceilings are very bad; burglar can then enter or exit without any sign; wall openings and flimsy partitions are likewise bad.

Doors:
Main considerations include the nature of risk, situation & use of door, condition of the door, inherent strength of the door, reinforcement of door, secure door frame, suitable lock. For outer doors:
1 1/2 hour rating and no glass
Flat iron/steel, or 2" solid hardwood
2" solid softwood or 1 1/2" solid hardwood
2" softwood, glass panels
2" or less close boarded framed/ledged/braced
1 3/4" hard/softwood rebated panels
1 3/4" framework/flush plywood panels
Ledged doors, toughened glass, and roller doors cannot be reinforced; others can be protected with shutters, wire grills, iron bars, or sheet metal lining:
Iron Bars 5/8" round or square, 1 1/2" flat (3/8" thick) 5" apart
Metal lining 16 gauge steel
Screens 8 gauge, frame tightly fitted
Hinges 4" long steel/brass, butt type, tapped.

Windows: Main factor is accessibility. Frames/glass should not be removable from outside. Can be protected with bars/screens as above.
Fixed metal frames, glass less than 80"2, glass bricks
Fixed metal frames, glass greater than 80"2
Fixed wooden frames
Windows with opening lights

Glass:
Unbreakable (bonded with polyvinyl butyral)
Plastic glazing (ULC Burglar Resistant)
Wired glass
Plate glass
Leaded glass

Misc. Openings:
Any opening greater than 96"2 provides entry and requires protection. If roof is accessible from ground, protect skylights. Remove ladders and other movable objects.

Locks: Deter amateur burglars (and some professionals may choose to go elsewhere). 3 Characteristics:

1) How lock secured to door:
Mortice locks: Recessed or built into door; lock is an integral part of door, stronger.
Rim Locks: Mounted on inside surface of door, easier to install.
Outside face of locks should be flush with door surface.
Glass Doors: Locks at bottom tend to get clogged with dirt and are exposed to excessive wear. Locks at top are sometimes not used by employees who can't reach them, and only lock bottom.
Garage Doors: Locked with spring latch operating on cross bar through holes in jam; holes should be drilled at ends and padlocks installed.
Elevator Doors: Secured with padlocks.
Double Doors: Need 2 mortice locks well apart & steel/brass/iron 10" bolts top & bottom, or steel locking bar & padlock.
French Doors: Need swing action dead locks & bolts top & bottom.
Unused doors: Bolted with 2 10" steel/iron/brass bolts.
Padlocks: Not acceptable on exterior of door.

2) Types of Lock Bolts:
Spring Latch: Poor, credit card can open lock.
Dead Latch: When door closed, latch is "dead" with pin, minimal protection; must be correctly aligned and can be forced.
Dead Bolt: Need key to lock & unlock (or thumb turn on inside); best protection. No spring action; cannot be forced. 'Extended Throw Feature': Dead bolt extended further into striker. 'Double Throw Feature': Burglar can't 'jimmy' as easily. 'Hardened Pin Feature': Burglar can't saw through exposed dead bolt. Strikers: Metal, on door frame, protect the bolt.

3) Types of Lock Bolt Throwing Mechanism:
Mechanical Locks:
Warded Locks: Oldest type, see-through key hole, long barrel-like key; locking bolt retained by pressure on steel spring. For bolt to move, spring tension must be released by turning key. Key passes over 'wards' (obstacles built into lock case). Very poor lock, spring vulnerable to manipulation.
Lever Locks: Levers held in position by spring tension wire; each lever has lug to bolt of lock. The pattern of the key raises levers to proper positions to open. Highly pick resistant. For cabinets/lockers/bank safe deposit boxes.
Pin Tumbler Locks: Invented by Linus Yale.
Standard Pin Tumbler: Most common lock. Lock cylinder is an inner rotating plug with cam; when rotated, cam withdraws bolt. Pins raised to common level (sheer line). Higher # of pins better (usually 5). Pins readily duplicated, picked fairly easily, cylinder can sometimes be removed with special tools.
Mushroom Pin Tumbler: Mushroom-shaped pins, more pick-resistant.
High Security Cylinders:
Rotating disc cylinders: 6-10 rotating discs; needs exact key. Key aligns cylinders to single groove at top of disc and locking bar drops. Discs scramble (random) when key withdrawn. Only select locksmiths with authorization can duplicate key. Highly pick resistant, also resists forcing/drilling.
Special Keyways: Curved/Narrow keyways with 5-6 pin cylinders makes picking difficult.
Rotating Pins: Pins are pointed, rotate, and lift to common shear line with proper key; highly pick resistant; duplicate keys through selected locksmiths for adequate key control.
Key in Knob Locks: Lock cylinder in door knob, usually dead latch. Not good protection; excessive force to knob may open.
'Jimmy-Proof' Locks: 2 vertically-moving dead bolts lock into compatible striker. May be good if cylinder pick resistant.
Glass Doors: Pivoting bolt should move deep into door frame and hook bolt, and be resistant to sawing.

Good Padlocks:
Shackle must lock & unlock by key only
Key non-removable when lock open
Hardened steel shackle
Shackle deadlocks on both sides
Body of lock 1 piece, hardened steel
Pick-resistant cylinder, key duplication control

Electro-Mechanical Locks: Electrically-activated keeper for locker mechanism, good protection if lock resists force and electrical circuit secure; can use key also (e.g., apartment buildings).

Electronic Locks: ID Cards and ID #; latch release switch. Expensive, locking mechanism needs to be good too, card security is important, system logic must be updated.

Exit requirements & Locks:
Double Cylinder Lock: Locks by key from both sides; better security, burglar can't open by breaking window and opening door by hand; also can't leave through door with stolen goods. But life safety requires exit doors have 'thumb turn' (single cylinder) locks, so occupant can leave in an emergency without a key.

Exit Doors:
Substantial doors with no adjacent glass is good.
ULC Burglar resistant glazing material is good.
Double Cylinder Locks can be used on main entrances so that door is unlocked when premises open; not allowed on secondary doors.
Panic Hardware: Sometimes required on secondary doors; entry restricted by having no hardware on outside of door; also sounds alarm on exit.

Key Control:
1 Keep the number of keys to a minimum
2 Keep a list of keys & persons
3 Key holders leaving company must turn in keys
4 Instruct persons not to duplicate keys
5 Mark all keys
6 Exercise stricter control over master keys
7 Use high security locks
---

STUDY 8 BURGLAR ALARMS & INTRUSION DETECTION DEVICES

Burglar Alarm Circuits & Equipment: Premium discounts allowed for insurance where recognized forms of protection employed. Alarms are an alternative to guards and watchmen.

High-Low Balanced Circuit: 'Closed Circuit' system (ULC Line Security Level 1).
Alarm Receiver at Central Station.
'Break' or Open Circuit Detecting Element: Causes alarm if current drops below minimum threshold (line cut).
'Cross' or Short-Circuit Detecting Element: 'Causes alarm if current rises above maximum threshold (wires crossed).
Fixed Protection Devices: Sensors in commission day and night, occupied or not (emergency exits, windows).
Secure/Access Switch: (Day/night switch) S=Night, A=Day.
Movable Protection Devices: Sensor removed when occupied (front doors, photo-electric beams, etc.).
End-Of-Line (EOL) Resistance Component: Detects changes in current from Movable Detection Devices, etc., at Central Station.

Burglar Alarm System Equipment:
Connecting Wiring:
Follow contours of building and run as high as practicable.
For sharp corners/projections, protect with 2 layers electrical tape.
For vertical wires between floors, use fire resistive covering.
Outside wires enter building as high as possible.

Protective Wiring: Single or Double Circuits, Double Circuits more difficult to defeat by 'jumpering'.

Conductive Foil: When glass breaks, foil rips, initiating alarm; usually Single Circuit.

Glass Breakage Detection System: Detects high frequency energy as glass breaks (sound of breaking glass).

Wire Lacing: Taut copper wire around perimeter, when broken initiates alarm; Double Circuit.

Wired Screens: Placed over window, limits movement 2", more will initiate alarm; Double Circuit.

Contact Switches: Detects movement between door & frame 2":
1) Magnetic Contacts: Contact block (frame) with switching element and actuating block (door) with magnet. When door closed, magnet holds switch in closed (normal) position. When open, magnetic field removed, switch transfers (crosses-over) to another contact, initiating alarm. Alarm can be defeated by placing a magnet on contact block when door opened.
2) High Security Contact Switches (Balanced Magnetic Switches): Like above but contact block has a second magnet; when door closed 2 magnets balance switch, out of balance when door opened. If 2nd magnet introduced in vicinity of contact block, still initiates alarm.
3) Lever Operated: Initiates alarm if door of vault opened or vault door bolts removed.
4) Plunger Operated: For safe or vault doors.
5) Vibration Operated: Supplemental protection for walls, ceilings, glass.
6) Tilt-Operated Mercury Switch: Protects horizontally-pivoting windows.
7) Rod-Operated: For night depositories; spring-tension rod against faceplate.

Trap (Trap Loop): Protects against removal of equipment to gain access through opening; conductor between equipment & opening broken if equipment removed, initiating alarm.

Floor Trap: Supplements perimeter alarm protection; cord 6-24" above floor at approach area; intruder trips and pulls plug, initiating alarm.

Pressure (Floor) Mat: Inexpensive & reliable; undetected under mat.

Intrusion Detection Devices:
1. Photoelectric (Beams): Transmitter (light source) & Receiver (photocell); if beam is broken (de-energized Double Circuit), initiates alarm. Can use light source to defeat alarm unless infrared light used or beam is stacked or synchronized. Beam is 18-36" above floor. Beam can be criss-crossed, or use mirrors too.
2. Infrared Devices: Detects changes in amount of infrared energy (at human body temperature 37ºC, 98ºF). Monitored in different zones (alarm initiated if change is in 1 area only, so no alarm for simple temperature change).
3. Ultrasonic Detection Devices: Transducers emit & receive sound at 19 kHz (above audible range), a change in the received signal initiates alarm (Doppler Effect), triggered by movement. Newer models have a transceiver (1 unit emits & receives sound). This system is good for detecting burglars who hide in premises.
4. Microwave Detection System: Transceiver transmits & receives radio signals at over 10,000 MHz, balanced beams. Movement (Doppler Effect) initiates alarm.
5. Combination Type Detection Systems: Reduces false alarms; both features need to be activated to initiate alarm.

Walk Tests: Walk through protected area at 1 step/second, tests range of system.

Zoning: For larger areas to be protected; alarm in a zone directs guards to proper area.
---

STUDY 9 LINE SECURITY & SIGNAL DETERMINATION, CHOICE OF ALARM SYSTEMS

Alarms offer no counter-reaction to intrusion, only alert persons on or off premises; better to have alarm and physical protection. Alarm Components:
1) Sensing or Detection Devices: Detects intruder (magnetic contacts, photo-electric, ultrasonic, infrared, etc.). Area of protection can be outside perimeter, space, spot, safe or vault; complete or partial.
2) Control Unit: Receives signal from sensing device and further initiates alarm signal, and provides electrical power for alarm. Alarm can be on premises or travels over leased phone lines to an alarm-receiving facility (if exposed lines tampered with, no alarm signal transmitted!).

Line Security: Adequate line supervision, if circuit tampered - alarm sounds; 3 Types:
1) Direct Wire: 1 circuit from premises to alarm-receiving facility, alarm quickly traced, but high cost.
2) Circuit (Party Line or Loop): Several subscribers on 1 line, cost lower; coded alarm transmitter at premises identifies particular subscriber.
3) Multi-Plex: Many subscribers, each subscriber has separate phone line (more subscribers possible).

Line Systems:
1) Open Circuit: Low grade, not suitable protection; no line security. System defeated by cutting phone line; no current flowing through line.
2) Closed Circuit:
i Simple: Constant electric current passes through line; if interrupted, initiates alarm. Can be defeated with equivalent independent power source, then cutting line. Includes McCulloh Circuit: Passive system that checks if alarm system is working at opening/closing of premises.
ii High-Low Balanced Circuit: Harder to defeat.
iii Pulsing Direct-Current System: Better, turns current on & off at fixed rate.
iv Multi-Signal System: AC/DC currents superimposed.
v Interrogate Response System (Digital): 2 way communication; signal premises to alarm facility and vice versa, both signals monitored.
vi Interrogate Response (Random Analog): Best, like above but both signals coded and changing.

3) Termination of Alarm Signals, Response Systems:
Central Station System: Supervised; when alarm received, notifies police and dispatches guards. Minimum requirements of Central Stations listed by ULC (Underwriters Laboratories of Canada).
Monitoring Station System: Like above, no guard response.
Proprietary System: On-premises Central Station (Security Control Centre).
Local Alarm System: On-premises alarm, costs lower. Watchman or passersby may hear alarm and notify police.
Digital Communicator Service (Telephone Dialer): Uses phone lines to send pre-recorded message or signal to receiving unit; no line security.

Burglary Protection Certificate Service of Underwriters Laboratories of Canada (ULC Certificates): Evidence that premises/safe/vault protected by appropriate burglar alarm system; issued by authorized alarm company; type is identified & classed:
Type of protection service, class of property protection, grade of service, extent of protection, certificate #, name/address of subscriber, name of alarm company, date issued/expired (maximum 5 years).
ULC-Listed Alarm Companies: To get listed, alarm company has agreement with ULC (ULC can investigate services provided), company can then issue ULC certificates.

Choice of Alarm Systems:
Level of line security (I-III)
Type of service (central station, etc.)
Physical protection
Extent of protection (1-4), 4 highest for high-risk

To Determine Appropriate Protection:
Determine occupancy class (1-9) from tables (Trade Group).
Determine degree of severity of risk (low, medium, high) regarding values of stock, burglary history in area, lightning, police, security, loss history, moral hazard, isolation of risk).
Determine grade of line security, extent protection, physical protection.
Determine specific types of protection needed, required extent of protection.
---

STUDY 10 SAFES & VAULTS--ROBBERY

Safe: Steel container with combination lock; no such thing as burglar proof (if burglar has knowledge of construction of safe, proper tools, and sufficient time he can open safe); Time is the critical factor; safe should resist attack for a long time. Rating decreases as the strength of safes increases. Stronger safes are required for more valuable items.

Safe Burglary Tools:
Electric Drill: Most common, requires skill & knowledge of construction.
Common Hand Tools (sledgehammer, crowbar, chisel, etc.): Requires brute force, not much skill.
Explosives: Very effective, dangerous, requires much skill.
Acetylene Torch: Burns hole through 1" steel in 45 seconds; requires skill, not easily portable, makes smoke.
Thermic Lance: 10,000ºF, melts concrete; not easily portable, requires skill, makes smoke and noise.

Types of Safes:
1) Fire Resistant: Resists heat, for paper storage; will not stop professional safecracker; minimal resistance.
2) Burglar Resistant (Money Chests), better.

Safe Classifications: Insurers Advisory Organization (IAO), classes for rating:
1) Class 1 Safe: Fire resistant with combination lock. Tested to resist temperature rise, dropping, explosion, interior temperature changes. Not good protection against burglar attack (has expansion joints, insulating material, baffles to radiate and control the flow of heat, light gauge steel construction to resist warping when hot, wheels, tongue/groove flanges of door, wooden interior).
Label Terminology of Burglar Resistant Safes:
DR = Drill TR = Torch TL = Tool TX = Torch/Explosives
(Followed by a number which is the minimum number of minutes needed to break open safe).
2) Class 2 Safe: Low commercial cash risks; 1" steel body, 1.5" steel door, combination lock; fastened in some way as weight is low.
3) Class 3 Safe: Average cash risks; burglar resistant safe; DR, UL, TL - 30 label.
4) Class 4 Safe: TRTL 30, TR 30, (X 60 deleted today).
5) Class 5 Safe: Highly burglar resistant; TR 60, TRTL 60, TXTL 60, TX 60, TRTL 30X6; very rare class.

Increasing Protection of Money safes:
Extra Weight: Embed in reinforced concrete block, record safe, etc.
Floor anchoring: Very effective, but permanent.
Location & Light: Safe should be very visible from window & well lit, so burglar would have to be in plain sight of police & passersby.
Alarm Systems: Reduces time that burglar can work on safe.
Relocking Devices: Part of safe design; relocks door by auxiliary bolt if attacked by burglar; cannot be opened except by burning bolting points or drilling.

Combination Locks: 4 # locks better than 3 # locks.
Group 1: Over 1 million combinations, highly resistant to expert/professional manipulation, for burglar resistant safes.
Group 1R: Like above, but resistant to X-Rays, etc.
Group 2: Over 1 million combinations, reasonably resistant to tampering, for fire resistant safes.

Lock Dials: Prevent combination from being read with binoculars at a distance.

Spyproof Dials: Better, numbers on side of dial.

To protect combination number:
1 Don't leave safe set on stock numbers, change when safe received
2 Don't leave number in convenient place for burglar to find
3 Change number periodically
4 Always keep safe locked

Safe Alarms:
1. Thermo Acoustic Alarm: Combination vibration & thermal detector; installed in safe; effective & low cost.
2. Wired Cabinet: Wired box around safe, when broken, initiates alarm; high cost.
3. Capacitance Alarm: Senses approach; safe insulated from ground & capacitance unit balanced; sensitivity adjustable for distance.

Vaults: Rating as above; larger size than safes:
1) Fire Resistant Record Safes: Little burglar resistance; can install burglar resistant safe inside.
2) Security Vaults: Better, Class 6+, relocking devices.

Vault Alarms: 2 Types: Complete (top, bottom, sides, outer door), and Partial (outer door for opening only).
Complete:
1) Sound/Vibration System: Sensors on all internal surfaces; also magnetic contact & thermal detector on vault door.
2) Wire Lacing: Entire interior walls, ceiling, door, also magnetic contact & thermal detector on door.

Robbery: Felonious & forcible taking of property from a Custodian or messenger by violence or threat of violence; overt act; crime against a person; crime of opportunity (restricted to whenever Custodian on premises, always a chance of apprehension); necessary to 'case' the premises. Keep money-handling practices and personal information confidential.

Robbery of Stock: Most risk is at opening & closing times; Loss Prevention:
1 Restrict movement of showcase stock
2 Close premises before moving stock
3 Restrict display quantities
4 Encourage police visits
5 Use secure delivery service
6 Use on-premises security systems
7 Post reward signs
8 Use time-delay switches


Robbery of Money & Securities: More difficult to recover, especially small notes; negotiable securities are easy to cash, non-negotiable aren't. If negotiables stamped "deposit only" then thief must deposit into a bank account before cashing and detection is possible; stop payments are also possible.

Money Handling: Use frequent deposits; minimize risk by using:

'Dual Custody' Safes: 2 people required to open safe (separate keys or combinations).

Depository Safes: Deposits through slot, pickups by armed guards, & dual keys.

Time Locks: Safe opens at times corresponding with security pickups.

Time Delay Locks: 20-30 minutes between when combination dialed & safe opens, increases time for robber to be caught.
---

STUDY 11 CRIME INSURANCE--RATING & CLAIMS

RATING: IBC Forms:

Church Theft ( 6001): Rates per $100 insurance, based on territory.

Inside/Outside Robbery (6003):
Inside: Rates per $1000, based on territory & occupation, discounts for more than 1 employee in addition to Custodian at 1 location, guards, alarms, tear gas.
Outside: Rates per $1000, based on territory & occupation, discounts for scheduled policy, unarmoured conveyance, armoured conveyance, messenger ULC protection bag/other receptacle, route of custodian restricted. 50% reduction if coverage only for securities & merchandise.

Lessees Safe Deposit Box Burglary & Robbery (6004): No territory; rates per $1000; vary with vault construction; discounts for watchman, alarms, premises above grade floor, relocking system, tear gas.

Money & Securities (6005):
A - Loss Inside Premises: (Interior Robbery & Safe Burglary Premiums) + rate per $1000; securities-only rate usually 25%.
B - Loss Outside Premises: (Outside Robbery Premium) + 10%.

Office & Store Burglary & Robbery (6006): Rates by occupation & territory.

Safe Burglary (6007): Rates per $1000, based on territory, occupation, classification of safe, class of property; discounts for divided coverage for more than 1 safe, scheduled more than 1 location, watchman, approved burglar alarm, unapproved closed circuit burglar alarm, business open 24 hours and Interior Robbery insurance carried, premises above grade floor, relocking system, tear gas, combinations of above.

Stock Burglary (6009): Rates per $1000, flat charges, reduce as amount of insurance increases (only partial losses anticipated). Co-insurance required or Insured must provide estimate of all values. Discounts for scheduled insurance, watchman, burglar alarm, window protection.

3-D Policy (5000): Each agreement rated separately; a minimum premium applies.

Financial Institution Bonds: Rated by number of employees, number of branches, penalty of bond.

Fidelity Bonds: Rates per $1000 of penalty, based on occupation by classification of employee.

CLAIMS:

Dwelling Theft Coverage: Homeowners/Tenants burglary or theft treated the same; inventory of contents, sworn proof of loss, and police report needed; know the policy; sentimental value not covered.

Scheduled Jewellery: Many fraudulent claims; insured on All Risk basis; insured value may be higher than ACV (insured at wholesale value). Adjust on basis of replacement.

Safe Burglary: Must be felonious forcible entry or removal; not covered if safe left open; damage to safe is covered. If safe is stolen, value of safe is included.

Robbery (Hold-Up): Determine if hold-up actually occurred, especially if only 1 Custodian (staging); utilize police.

Money & Securities: Investigate if loss is not a hold-up or burglary (mysterious loss); utilize police; establish if loss occurred & if caused by employee infidelity; notify Fidelity Insurer as required.

Stock Burglary: Requires evidence of forcible entry/exit; obtain inventory of stock; watch for obsolete stock losses.

3-D Policy: Adjust as per individual sections.

Safe Deposit Box Burglary & Robbery: Determine the amount of the loss (may not be records - affidavit & sworn statements required). Utilize police, customs & income tax investigators. Lessor Liability Policy: Lessor must be negligent & liable for coverage.

Bond Claims: Handled by senior & experienced adjusters.

Fidelity: Rarely litigation required; thorough investigation always required; not cumulative year to year, notice/discovery periods, coverage terminates upon loss; employee liable to employer (employer can prosecute, separate from insurance); court order may be needed to make employee cooperate, and for seizure & sale of property; do not accuse employee if disputing dishonesty; contra proferentum; incidental losses not covered.

EXAM TIME--GOOD LUCK!!!

---
Michael B. Downer, A.A., B.Sc., C.I.P., President
Brian E. Downer, A.M.S., Secretary of the Ontario Marine Surveyors Association
Marine Insurance Services E-Mail
downer@marineinsureservices.com
HOME
---
MEMBERS: IIC, OMSA, ABYC, SCFPOA
A Division of 1134935 Ontario Limited